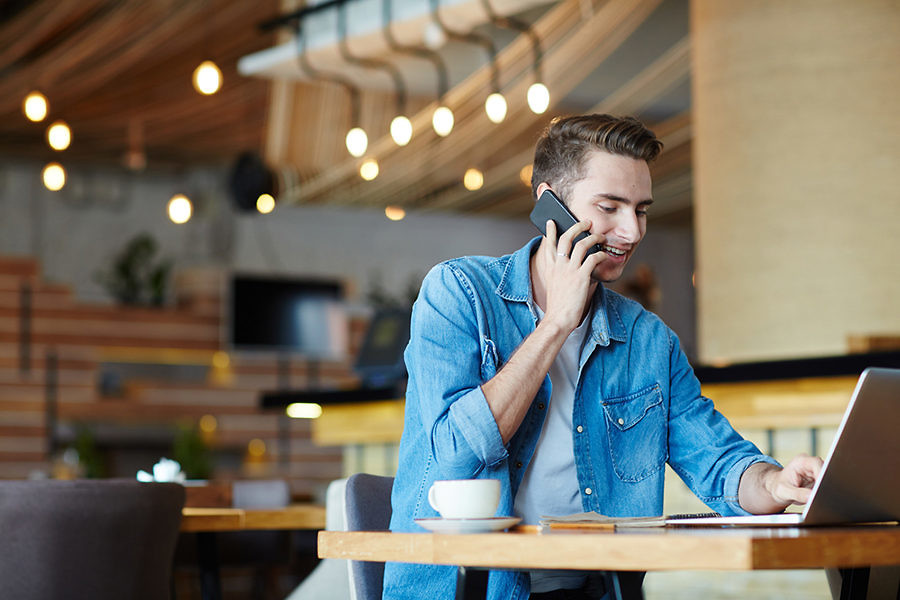 Offering remote work opportunities is a great way to boost employee satisfaction and retention in 2019 and beyond. If you think remote employees are bound to perform worse than local employees, think again. According to research from Stanford, telecommuters take fewer sick days, fewer long breaks and have better job satisfaction.
However, high performance can't happen without management that enables to engage and be productive. Providing your teleworkers the right tools, having a good communication strategy and creating a "team†feeling are imperative for getting the most out of your virtual team. Here are 10 tips that will help both you and your remote employees have better success:
1. How to Test New Remote Workers
While some employees work better remotely, remote work isn't for everyone. That's why it's a good idea to test out a remote worker with a short-term, part-time position before hiring them full-time. This way, you can help them with the remote work learning curve and make sure they're up to the task before they commit to a more permanent position. If you're happy with the work a new employee has done in a part-time position, you can expect them to do well in a full-time position because they'll feel more engaged and part of the team.
2. Create a Standard On-Boarding Process
To make your remote employees feel they're truly part of the team, you need to overcompensate for their lack of seeing the company's office in person. They won't be able to educate themselves by watching other employees, so you'll want to offer a standard training program for them. This could include videos and literature they can look at on their own time. However, you should also hold a live conference call with them to talk about your company and its culture so they can feel a part of it.
3. Build Relationships and Community
To make help them feel like they're part of the company, build relationships with your remote employees and provide a community for them. This tends to happen naturally in an office setting, but you need to make a more conscious effort for a virtual team. When you communicate with your team members, acknowledge their life outside of work. Ask about family and share your own commonalities with them. Also, show you appreciate their big-picture goals and aspirations for their career, instead of just the work they're doing for you.
Having lines of communication open and being available to communicate is also a large part of building a community feel. Make employees feel they can reach out to supervisors and other team members at any time by setting them up with live chat software. If you set them up with a project management software that includes live chat, it helps remote workers keep all their collaborative efforts organized in one place.
4. Set Clear Expectations
It serves both employees and yourself to give them clear ideas of what you expect from them. All employees have different backgrounds. Without showing up at an office among other employees, it's harder for new hires to adjust to the pace and protocols of your work environment. To avoid misunderstandings, set clear deadlines they can view on a shared calendar. Show them examples of the quality of work you expect and write guidelines they can follow.
5. Be Available/Communicate Frequently
In an office setting, you have plenty of opportunities to talk when you "bump into†your employees, walk past their desks or see them at lunch. Remote workers don't have the same luxury of staying in touch all the time by being in the same physical environment as you. To compensate for this, you actually need to over-communicate a little. Don't be afraid to "check in†by simply asking how they're doing or if they need anything from you. Make yourself available to them through multiple channels and respond to them as soon as possible so they don't feel you're in two different worlds.
6. Have a Formal Communication Strategy
Besides being available and checking in, arrange formal conversations with your remote employees. Schedule mandatory "report-ins†that allow your team members to regularly report to you. This helps employees get into a rhythm and feel like there's a formal element of their job they need to show up for. Schedule a weekly conference call for all team members to get everyone on the same page for the coming week. If you feel like your employees need more structure within their week, have a brief conference call with them each morning or three days a week.
7. Invest in High-Quality Conference Software
Because seamless communication is so vital when you have a remote team, you can't afford to go wrong in the technology department. When tech problems come up, they only distract and frustrate employees when you're trying to engage them. Vast Conference is a great web-based conference calling platform for network reliability. Its screen sharing and live chat capabilities make your remote meetings more productive. It also gives you recordings and transcriptions of your conference calls, so that everyone stays on the same page when the meeting's over.
8. Create a "Team" Feeling
As an employer, it's your job to set the tone for your employees. If you want to build a strong, productive team, then you need to create a true "team†feeling remote employees can catch onto. During conference calls, don't limit the scope of your conversations to the work you're getting from them. You want to inform remote employees about the bigger picture of the company's goals and the direction it's going in. Tell them how the company is doing and what's happening in other parts of the organization. This shows them they're part of the company so that they don't feel like a separate entity.
Another thing you can do is have quarterly in-person meet-ups for your remote workers. This not only allows them to meet you in person, it also allows you to bond with their co-workers. Communicating face-to-face for a change is a great way to invest in your relationship with remote employees. Meeting their team members and doing team-building activities also helps them feel committed to their team.
9. Choose a System for Seamless Collaboration
Having the right online tools make collaboration possible is a basic need for remote teams. They're designed to prevent miscommunication and other mishaps that reduce productivity. With cloud-based project management platforms, everyone can stay on the same page from any device.
Project management applications keep teams organized with shared calendars and to-do lists. They also let people share documents instantly and edit simultaneously so that everyone has the latest version. Documents and conversations are organized into projects so that anyone can jump into the workflow at any time, from anywhere. If your team is relying on email or Skype for their collaborative work efforts, it's definitely worthwhile to upgrade them to a project management system.
10. Track Productivity
It pays to track productivity for any employee, but even more so for remote team members. In an office setting, you get a sense for who's working hard and who's falling behind on attendance or taking extra long lunch breaks. If your employees are paid by the hour, try using a time tracking software like Time Doctor, which holds them accountable to their hours worked. It provides transparency by telling you what websites and applications your remote workers use while they're "on the clock.â€
If you're working with a remote sales team, an analytics tool like SalesHandy can track their productivity. Be sure to track deadlines so that your employees stay motivated to manage their time and complete tasks in a timely manner.
Bonus Tip: Helping Remote Employees Succeed
Hiring remote employees is an investment for your business. Telecommuting enables you to choose from a larger pool of talent and reduce overhead costs in your physical office. However, it only works when managerial tactics are in place to retain your employees and help them succeed. Over-communicating with teleworkers in a way that makes them feel they're part of a team can compensate for their lack of physical presence at your company. The right technology will enable your remote employees to collaborate without physically working together. Online tools can also help you track their productivity remotely and keep them on their toes.
It takes a dedicated effort to ensure your virtual team succeeds. When you do your part, you can have employees who are happier, less stressed and more productive than your in-office staff.
If you enjoyed this post, you may also want to check out these others:
A Simple Definition of "Marketing."
Four Tips to Get More Visitors to Your Website
Facebook: Small Business Marketing Strategies that Work!
3 Simple Ways to Generate Business on LinkedIn
15 Website Mistakes You Want to Avoid (Part 1)
3 Ways to Increase Your Business Without Resorting to SEO
How to Target Large Clients with Little to No Money
Is There Still Gold in Cold Calling?
This article is published by Will Sherwood | The Sherwood Group |Website Design | Graphic Design | Marketing Communications: The Sherwood Group has over 30 years of experience working with all sorts of companies, small and large. Our clients range from entrepreneurs to Fortune 500 firms, in nearly every business sector, from across the street to around the world (and yes, even Europe, China, and South America). Our goal is to create advertising,  graphic design, website design, and marketing communication that still looks fresh and relevant 10-15 years later. Our mission is to stir your imagination and leave your competition shaken and wondering,  Now what do we do?"  We are located in Myrtle Beach, South Carolina.
"Like" us and/or "Follow" us at these social media sites and we'll return the favor:
Please comment. We'd like to know if you found this article informative or helpful?